Learn what national security provisions have been implemented at ports of entry in California for immigrants & noncitizens and how to navigate these provisions.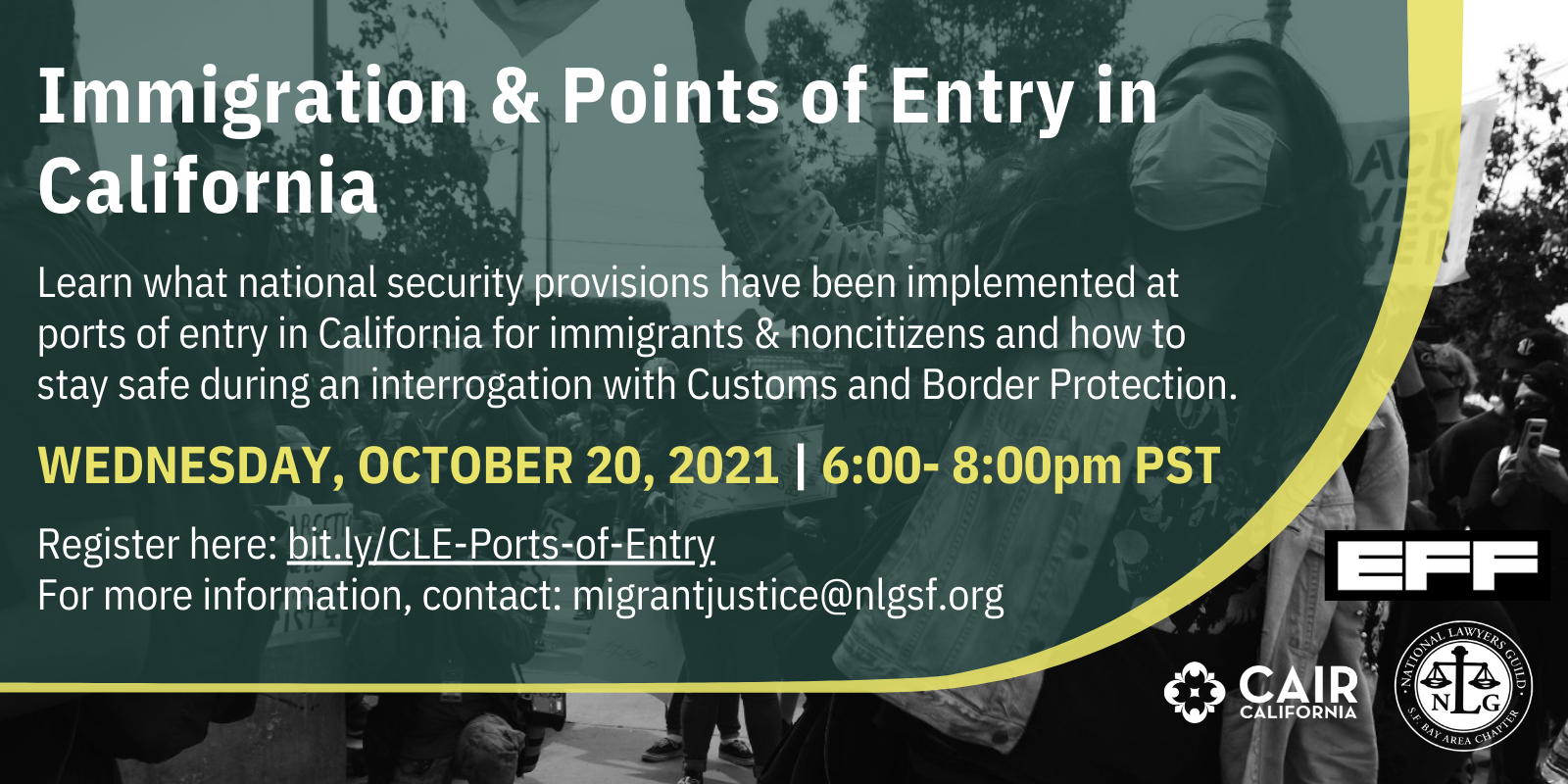 The NLG-SFBA Immigration Justice Committee is partnering with the SF-Bay Area office of the Council on American-Islamic Relations (CAIR-SFBA) and the Electronic Frontier Foundation (EFF) on a webinar surveying what immigrants and noncitizens might face when entering or leaving a port of entry in California. Speakers will cover what to expect when questioned by Customs and Border Protection (CBP), what authority the government has with investigating electronics, and how to take action when CBP goes outside of that authority and violates the rights of the person detained, depending on their immigration status.
Speakers:
Brittney Rezaei is the Immigrants' Rights Attorney for office of the CAIR-SFBA. She leads CAIR-SFBA's immigrants' rights work and provides direct legal services to immigrant communities and their families.

Sophia Cope is a Senior Staff Attorney on the EFF's civil liberties team, working on a variety of free speech and privacy issues. She has been a civil liberies attorney for 15 years and has experience in both litigation and policy advocacy. 
Moderator:
Kelsey Morales is an 

Immigration Litigation Fellow with the Alameda County Public Defender's Office and NLG-SFBA Immigration Justice Committee Member
If you have any questions about the webinar or run into any issues, please contact our program coordinator, Savannah Landau, here: migrantjustice@nlgsf.org
When
October 20th, 2021 6:00 PM through 8:00 PM
CLE Event Fee
Community Ticket - Free
MCLE Credit (Attorneys only) - $50/person (2 credits)